News & Case Studies
We'd like to share more about what we are doing. A lot of what we do starts with a website, but we are much more than that. We offer a wide range of unique skills and experience. We connect business systems and create custom solutions, a few of which are described in these case studies.
GoodTemps Staffing Solutions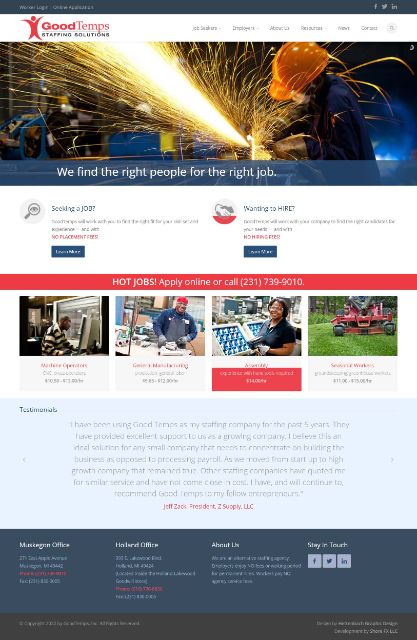 Project Description
Shore FX has been a partner with GoodTemps staffing for many years. We created their first website that has grown with them and evolved over several re-designs.
We later added a full online application process with the ability to create an account, start an application, save progress and submit. We created a fill-in PDF application form package for GoodTemps which serves two purposes; an in-person easy to fill-in form and also for automatic population from the online web application. A completed online application package is sent to the GoodTemps recruiters and copied to the applicant for reference.
The online application solution is a generic solution created by Shore FX which generates Adobe form data files and with custom software injects that data into a fill-in PDF immediately upon web form submission. The result is a fully filled PDF in your format, ready to be printed or attached to other systems. The fact that the form data originated from a website form is transparent to the reader of the PDF.
Services Provided
Website Development
Website Hosting
SSL Certificate
Custom Software Development
Share this Post